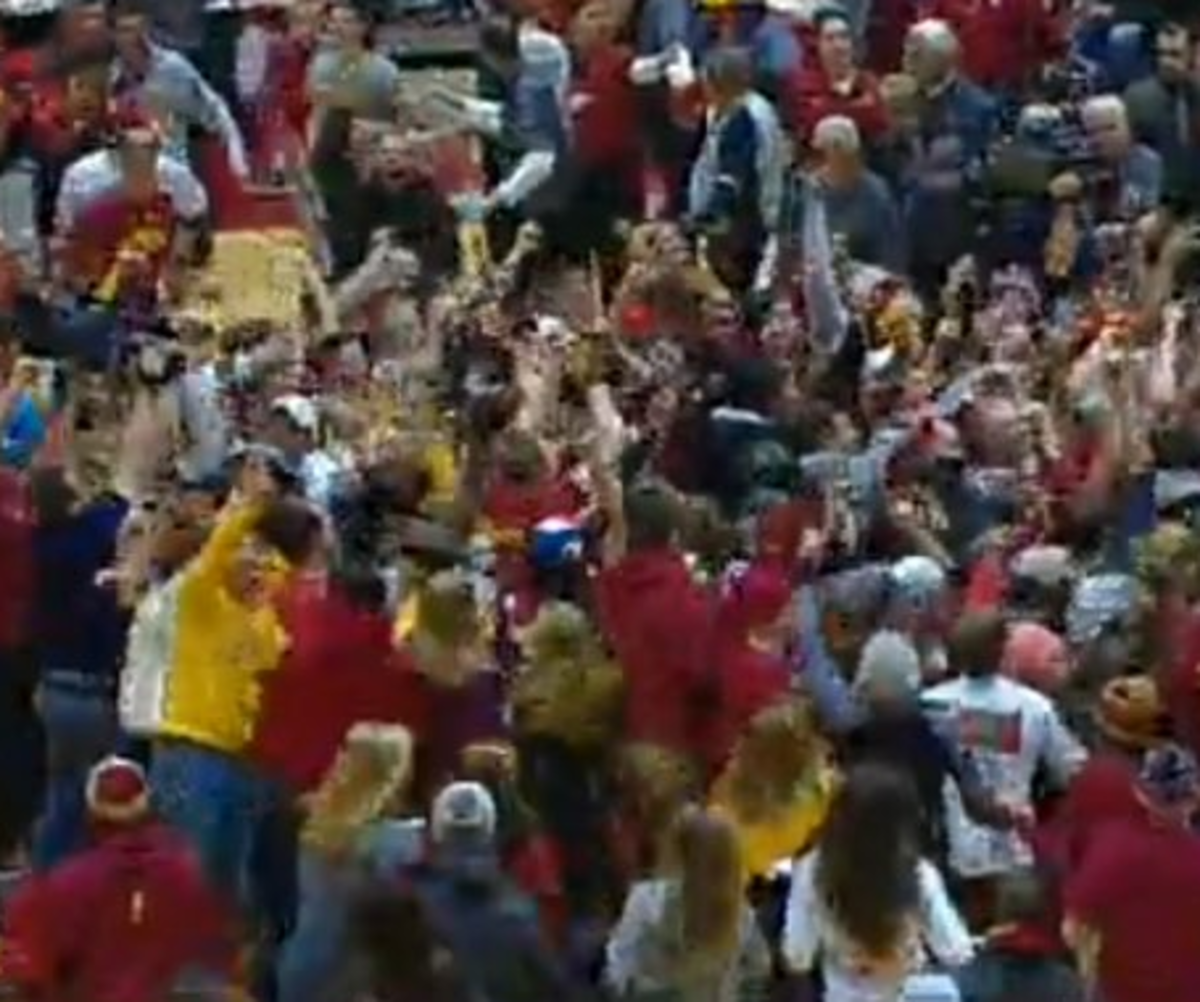 It's one of the most majestic sights in all of sports. The buzzer sounds and a swarm of fans storm the court to congratulate the school's players and to celebrate a monumental win.
But is the court-rush becoming a cliché in college basketball? Are too many fans taking advantage of something that was once sacred?
As a college basketball fan at a university with a big-time basketball program, I know that urge that comes along with a big win. Every student who goes to a basketball school wants to experience that amazing feeling of storming the court. But there's a time and a place for everything.
Here's a list of the 10 worst Divison I court rushes this season:
10. Miami over Duke
Not many expected Miami to pound Duke by almost 30 at BankUnited Center in Coral Gables, Florida. But, it happened, and Miami fans rushed onto the court to celebrate the program's first win over a No. 1 school.
But was it rush-worthy? Nah. It was absolutely a huge win for the program and for the fans, but the game wasn't even close. You can't rush the court when you win by 30 and hold a huge lead for the entire game. Plus, it wasn't even Duke's first loss of the season, as the Blue Devils had already fallen to NC State. Miami, you were picked to finish respectably in the ACC before the season began, so act like it.
9. Oregon over Arizona
I won't deny that this was a big win for Oregon over a conference foe. But Arizona is just that, a conference rival. A team should expect to be competitive with its conference rival, especially when Arizona travels to Eugene.
The Ducks are now ranked No. 10 in the AP Poll. Why? Because their basketball team is good. Did fans not realize that before the Wildcats came to town? Obviously not, because good teams don't need to rush the court.
8. Villanova over Louisville
What happened to you, Villanova? Your fans must have short memories. You rank 20th all-time in Division I basketball winning percentage. You made a Final Four as recently as 2009. Your consistently compete in one of the hardest conferences in college hoops, yet you rush the court after beating a team that you've beaten three out of the last four years?
A Villanova fan would once consider the basketball program to be an elite member of the Big East. Is that not the case anymore?
7. Maryland over NC State
Sure, NC State had just upset Duke, but it's not like Wolfpack took over the Blue Devils' No. 1 ranking.
NC State was ranked No. 14 in the country at that time and had already been crushed by Oklahoma State earlier in the season. Maryland seems like a program that would consider itself a contender in the ACC. With 24 NCAA Tournament appearances and a National Championship in 2002, the Terps should never have to rush the court because the team and fans should expect a victory at every home game.
6. Wake Forest over NC State
I guess Maryland beat you to it, Wake Forest. Just a couple games before your court rushing, the Terps rushed on NC State, making your rush just look silly.
5. Florida Gulf Coast University over Miami
Look, Florida Gulf Coast University, I understand you rarely win games against ACC teams, but Miami? And this isn't even the Miami team that beat Duke. This was second game of the season Miami. Also, this game had almost no significance. Neither team was ranked nor is Miami one of the Eagles' rivals.
4. Drake over Creighton
Creighton doesn't even seem to be the best team in the Missouri Valley conference this year. The Bluejays had just lost their last game to Wichita State and Drake dealt them another blow a few days after. Note to Drake fans: if the team you're playing just lost its last game, then they're probably not good enough to be rushing the court against.
3. Miami over Michigan State
Here's my theory surrounding this court rush. Miami hasn't had the best attendance over the past couple years, but Coral Gables was packed for this game because it was getting so much hype. That hype translated into a court storming that never should have happened. I'd like to remind Miami fans that Michigan State had already lost to UConn in its first game of the season.
2. Villanova over Syracuse
Villanova, you just beat Louisville who was previously ranked the top team in the country.
I thought that might remind you of your previously mentioned prominence in the Big East, but nope. You still couldn't remember that you're supposed to have a good basketball team and rushed when you beat Syracuse. The Syracuse-Villanova rivalry has been a great one over the years. The two teams have traded back and forth in victories. By now, your fans should expect to beat Syracuse. That's the point of a rivalry. In your mind, you should never expect to lose.
1. Notre Dame over Kentucky
Looking back, this looks like one of the worst court rushes in history. If you look at how the two teams are performing now, one might question why Notre Dame wasn't the heavy favorite to win.
But in Notre Dame's defense, the Kentucky hype was crazy at that point and the Wildcats had only lost to Duke. Still, Purcell Pavilion is one of the toughest places to play in the country. And when you host a team at one of the toughest places to play in the country, you should expect to win.
I was pretty surprised to see the Irish fans rush the court here. Notre Dame fans demand success and with a solid team consisting of one of the best big men in the country, I didn't expect any differently in this game. This has been one of the most consistent programs in the past few years, knocking off big team after big team. I just expected more out of a program like that.