Week 10 brings a huge contest between Ohio State and Nebraska – along with an SEC West showdown between Alabama and LSU. At the start of the week, there will be four undefeated teams from four different conferences. But don't worry, it won't be that easy for the committee this year. At least one of them is going down soon.
Week 10 Highlights:
Clemson rolls against Syracuse, and is now just three wins away from another undefeated regular season.
Oregon crushes USC – keeping pace with Stanford.
TCU downs Baylor, adding to the Bears' misery.
LSU, shockingly, runs all over Alabama, taking control of the SEC West.
Ohio State destroys Nebraska – exposing the Cornhuskers as a College Football Playoff fraud.
Here are the standings and the College Football Playoff hierarchy after Week 10.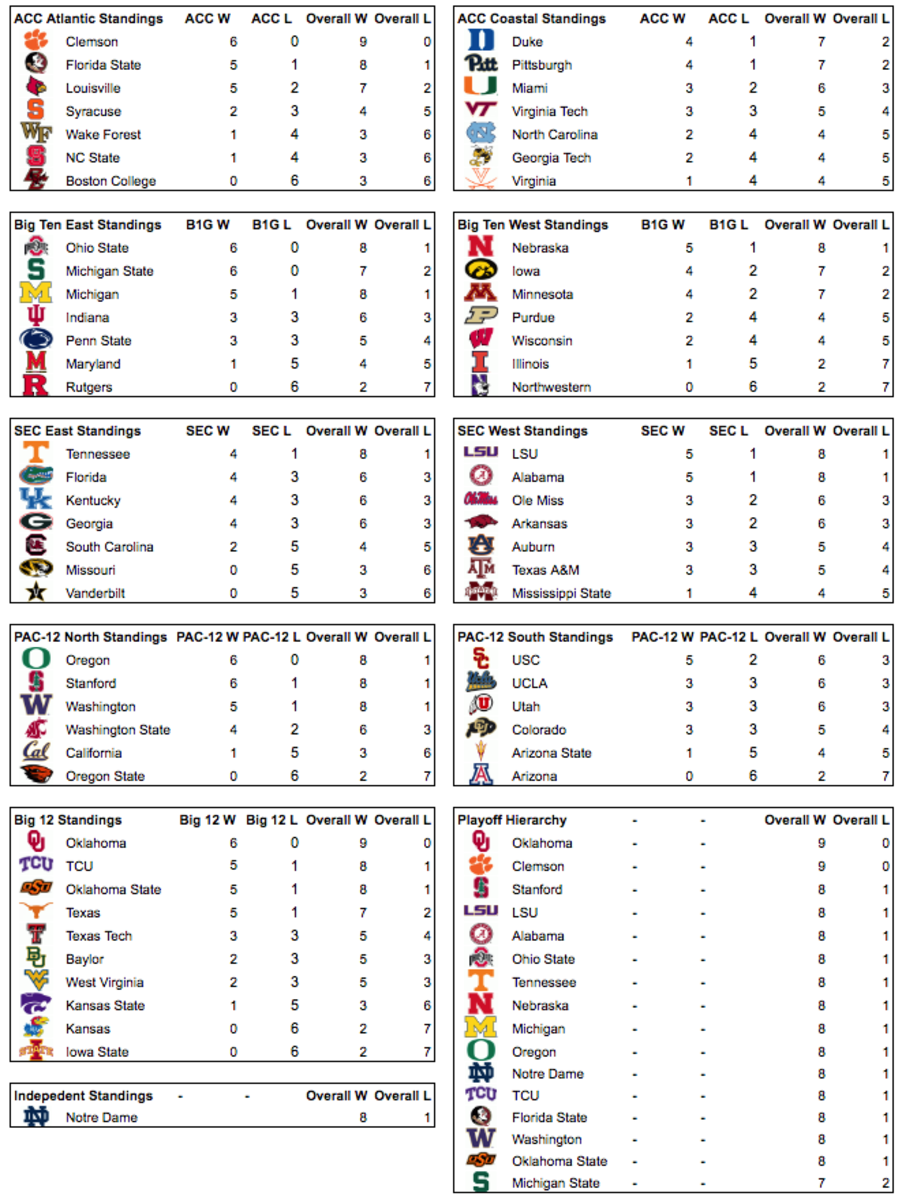 Here are the scores for every Power 5 game:
Colorado 53, UCLA 30
Oklahoma 34, Iowa State 8
Louisville 34, Boston College 29
Clemson 42, Syracuse 7
Duke 55, Virginia Tech 33
Florida State 55, NC State 7
Georgia Tech 44, North Carolina 18
Pittsburgh 51, Miami 29
Virginia 38, Wake Forest 31
Washington State 61, Arizona 24
Oregon 45, USC 15
Stanford 66, Oregon State 14
Washington 44, California 21
TCU 55, Baylor 21
Arkansas 55, Florida 37
Auburn 23, Vanderbilt 15
Georgia 24, Kentucky 14
LSU 38, Alabama 15
Ole Miss 51, Georgia Southern 21
Texas A&M 42, Mississippi State 19
South Carolina 53, Missouri 29
Tennessee 45, Tennessee Tech 14
West Virginia 36, Kansas 7
Oklahoma State 50, Kansas State 49
Texas 49, Texas Tech 18
Indiana 34, Rutgers 29
Michigan State 49, Illinois 17
Michigan 33, Maryland 18
Purdue 39, Minnesota 34
Wisconsin 49, Northwestern 34
Notre Dame 45, Navy 7
Penn State 41, Iowa 20
Ohio State 40, Nebraska 18