With the college football world still in shock from Alabama's crushing loss, LSU stumbles against Arkansas, giving the Crimson Tide the upper hand in the SEC West again. Stanford and Oregon renew their annual rivalry, while Oklahoma hands Baylor yet another lopsided loss. Michigan and Iowa meet in an important Big Ten contest.
Week 11 Highlights:
Clemson stays perfect with a nice win over Pittsburgh.
Washington, surprisingly, gives USC another tough loss.
Stanford takes control of the Pac-12 with a huge victory over Oregon.
Auburn puts it all together, destroying Georgia by 45 points.
Oklahoma embarrasses Baylor, keeping control of the Big 12.
Michigan annihilates Iowa, keeping pace in the Big Ten.
Here are the standings and the College Football Playoff hierarchy after Week 11.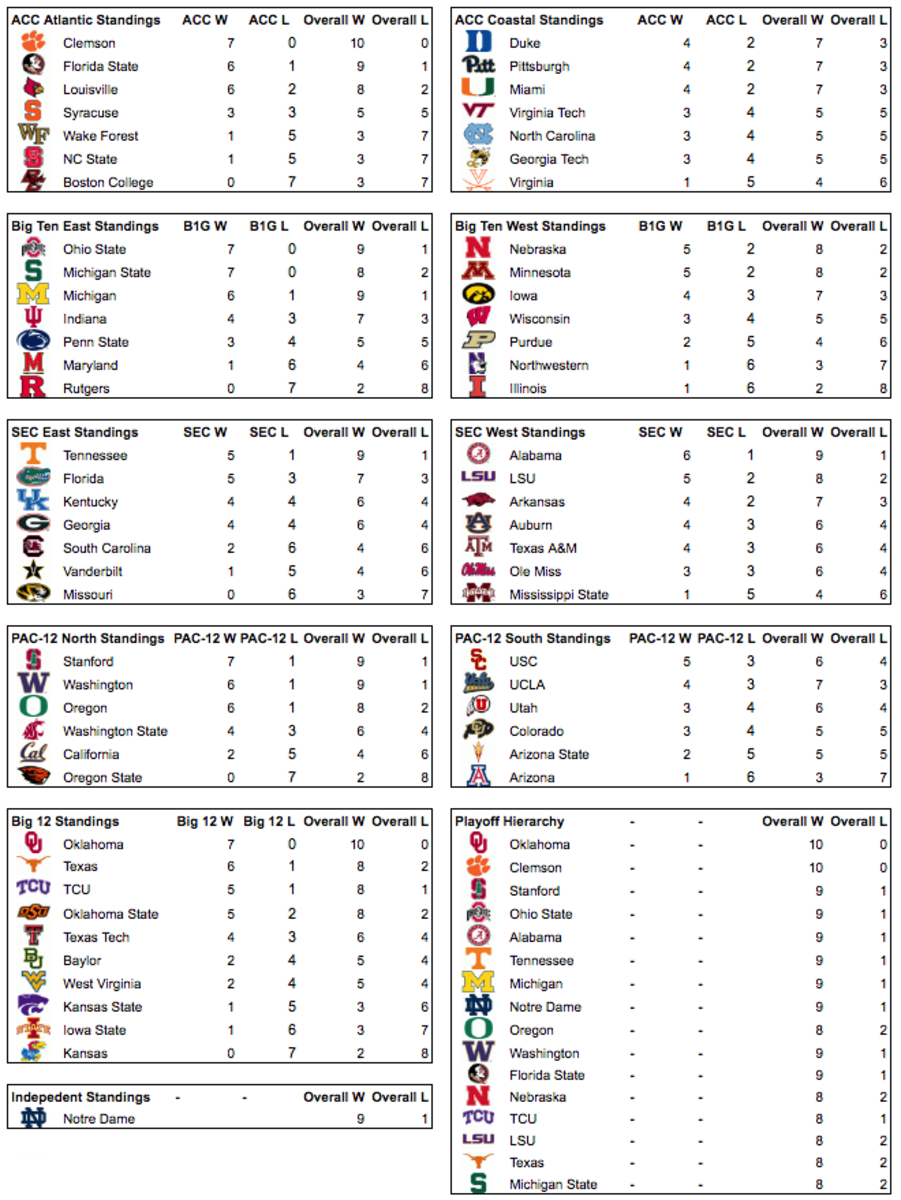 Here are the scores for every Power 5 game:
Arizona State 55, Utah 24
North Carolina 23, Duke 7
Florida State 23, Boston College 21
Clemson 43, Pittsburgh 21
Georgia Tech 41, Virginia Tech 29
Louisville 32, Wake Forest 8
Syracuse 52, NC State 29
Arizona 20, Colorado 15
Washington 28, USC 21
UCLA 66, Oregon State 14
Stanford 28, Oregon 20
California 28, Washington State 21
Alabama 52, Mississippi State 21
Arkansas 28, LSU 22
Florida 34, South Carolina 14
Auburn 52, Georgia 7
Vanderbilt 45, Missouri 14
Tennessee 23, Kentucky 7
Texas A&M 27, Ole Miss 18
Oklahoma 34, Baylor 18
Miami 17, Virginia 7
Iowa State 34, Kansas 31
Texas Tech 24, Oklahoma State 14
Texas 55, West Virginia 51
Michigan State 49, Rutgers 7
Ohio State 55, Maryland 7
Indiana 49, Penn State 15
Michigan 36, Iowa 14
Minnesota 25, Nebraska 14
Northwestern 35, Purdue 7
Wisconsin 35, Illinois 7
Notre Dame 44, Army 18