With rivalry weekend on the horizon, there are a number of what we'll call underwhelming matchups. Alabama, Auburn, Florida, Georgia, Kentucky, LSU and a number of other squads play lesser opponents. Meanwhile, Ohio State and Michigan State meet in a big one. There's also an important tilt between TCU and Oklahoma State.
Week 12 Highlights:
Houston knocks off Louisville, creeping back into the discussion for a New Year's Six bowl.
Oklahoma blows out West Virginia, needing just one more win to finish the season undefeated.
Ohio State gets revenge for 2015, handing Michigan State its first Big Ten loss.
USC gets the best of UCLA, taking back control of the LA rivalry.
Here are the standings and the College Football Playoff hierarchy after Week 12.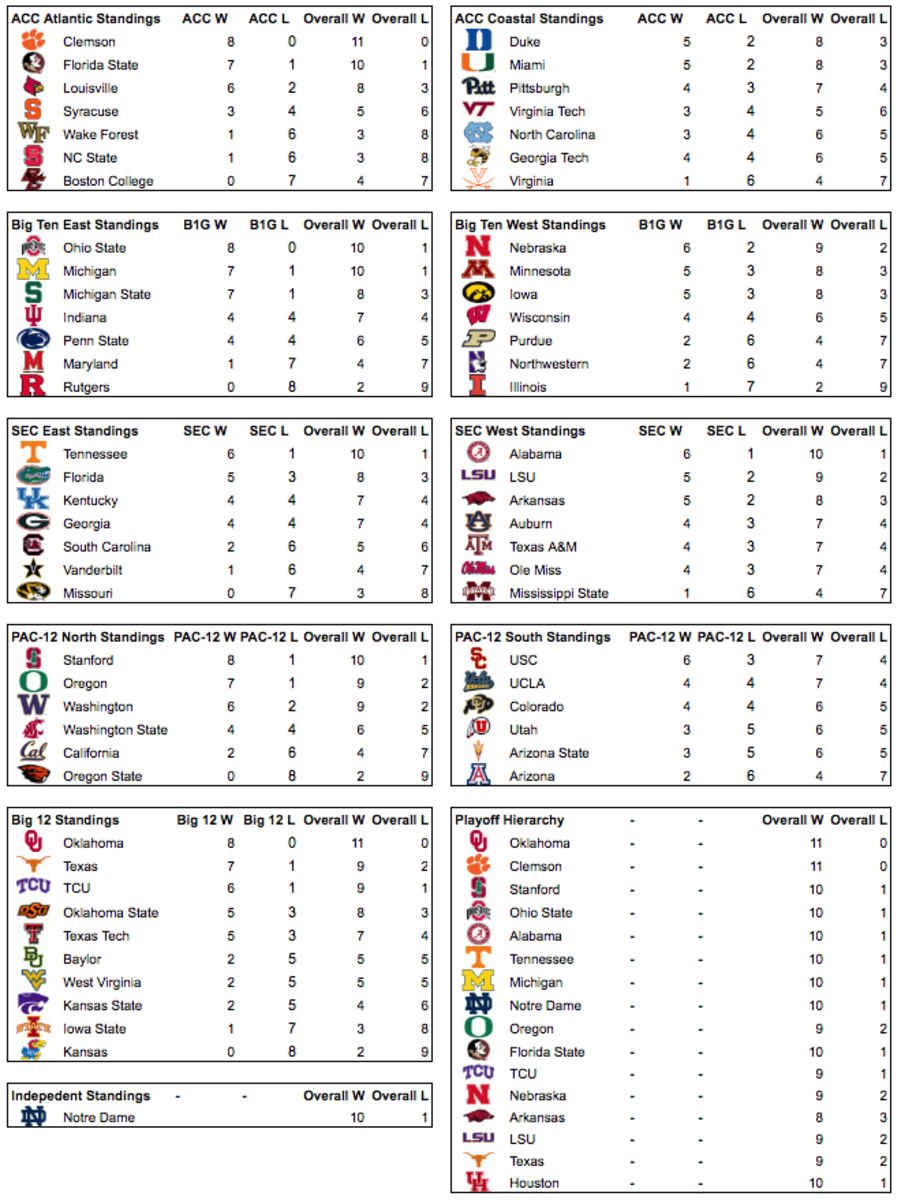 Here are the scores for every Power 5 game:
Houston 49, Louisville 35
Kansas State 50, Baylor 44
Texas Tech 35, Iowa State 34
Texas 23, Kansas 21
Oklahoma 34, West Virginia 22
TCU 23, Oklahoma State 15
Ohio State 33, Michigan State 30
Iowa 26, Illinois 18
Michigan 51, Indiana 30
Northwestern 17, Minnesota 11
Nebraska 25, Maryland 7
Wisconsin 50, Purdue 7
Boston College 35, UConn 8
Clemson 51, Wake Forest 11
Duke 44, Pittsburgh 37
Florida State 31, Syracuse 8
Georgia Tech 24, Virginia 7
Miami 34, NC State 14
North Carolina 28, The Citadel 14
Alabama 28, Chattanooga 7
Auburn 45, Alabama A&M 7
Florida 40, Presbyterian College 8
Georgia 31, Louisiana Lafayette 7
Kentucky 55, Austin Peay 7
LSU 45, South Alabama 10
Arkansas 35, Mississippi State 14
South Carolina 51, Western Carolina 15
Tennessee 51, Missouri 7
Texas A&M 66, Texas San Antonio 14
Ole Miss 38, Vanderbilt 14
Arizona 44, Oregon State 11
Arizona State 55, Washington 41
USC 45, UCLA 43
Colorado 48, Washington State 25
Oregon 60, Utah 25
Stanford 38, California 14
Notre Dame 51, Virginia Tech 42
Penn State 41, Rutgers 0