Given how tight the College Football Playoff race is looking, rivalry weekend is huge. Notre Dame needs a win against USC to stake its claim. Alabama needs to down rival Auburn to keep control of the SEC West. Clemson needs to upend in-state nemesis South Carolina to finish the regular season unscathed. And of course, there's Michigan vs. Ohio State.
Week 13 Highlights:
LSU crushes Texas A&M, but doesn't win the SEC West because…
Alabama holds off Auburn late, securing its place in the SEC title game…
Against Tennessee, who handles Vanderbilt and heads into the postseason rolling.
Michigan gets it done this year, knocking Ohio State from the Playoff race. Can the Wolverines get in?
Here are the standings and the College Football Playoff hierarchy after Week 13.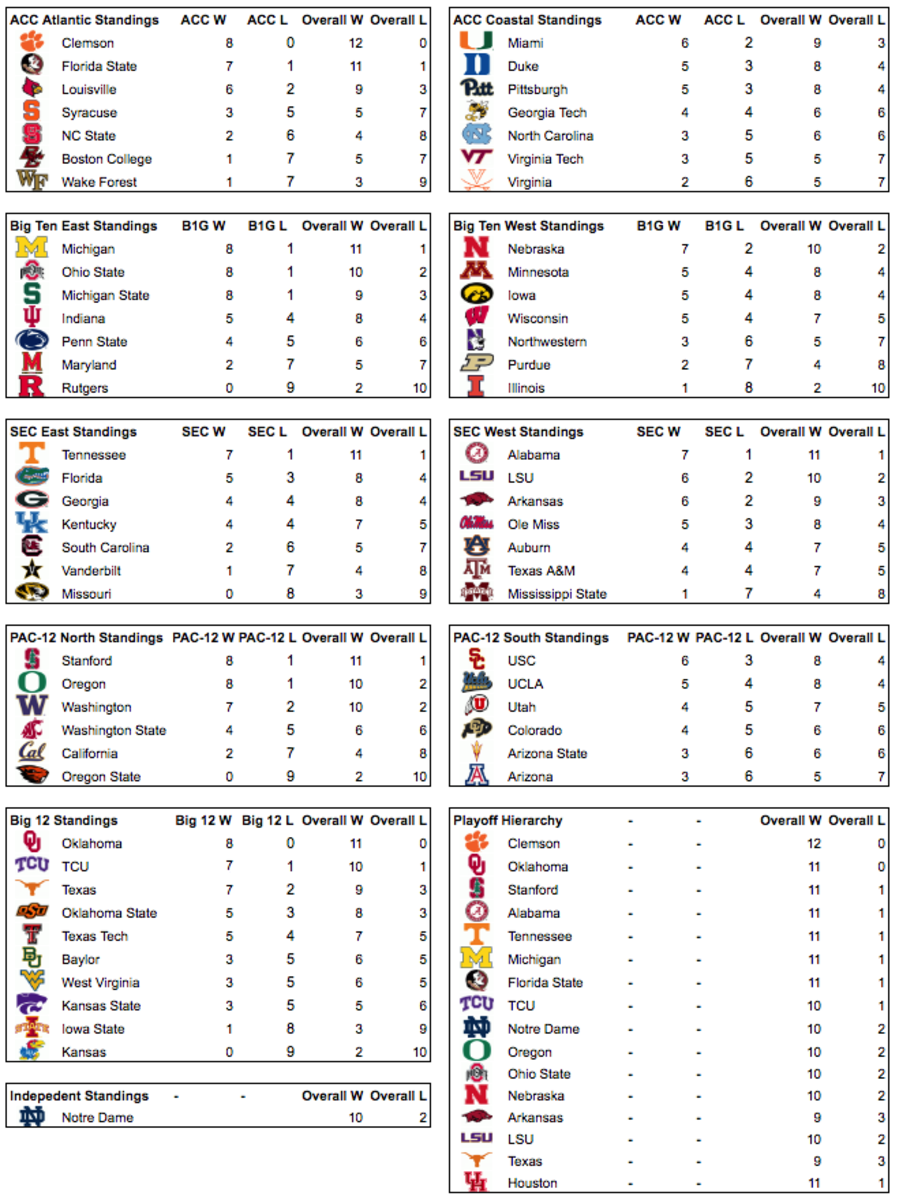 Here are the scores for every Power 5 game:
LSU 41, Texas A&M 18
Baylor 56, Texas Tech 34
Arizona 55, Arizona State 34
Washington 41, Washington State 29
NC State 56, North Carolina 32
Nebraska 36, Iowa 19
TCU 40, Texas 18
Boston College 35, Wake Forest 14
Miami 48, Duke 19
Pittsburgh 50, Syracuse 14
Virginia 38, Virginia Tech 15
UCLA 66, California 24
Utah 61, Colorado 49
Oregon 66, Oregon State 0
Stanford 71, Rice 0
USC 66, Notre Dame 25
Alabama 55, Auburn 21
Florida State 42, Florida 37
Georgia 49, Georgia Tech 41
Louisville 31, Kentucky 22
Ole Miss 14, Mississippi State 10
Arkansas 30, Missouri 22
Clemson 48, South Carolina 14
Tennessee 48, Vanderbilt 21
Maryland 44, Rutgers 17
Michigan 28, Ohio State 24
Indiana 17, Purdue 14
Northwestern 21, Illinois 0
Michigan State 28, Penn State 25
Wisconsin 35, Minnesota 20
West Virginia 30, Iowa State 28
Kansas State 21, Kansas 18