Let's get started with week one – which features a dozen big-time matchups.
Week 1 Highlights:
Tennessee looks like the most impressive team in the country, blasting Appalachian State.
Stanford takes down Kansas State in an important non-conference matchup.
UCLA hands Texas A&M a tough non-conference loss.
Oklahoma holds off upstart Houston.
LSU handles Wisconsin despite offensive struggles.
Alabama crushes USC.
Clemson downs Auburn on a last-second touchdown.
Notre Dame has no problem with Texas.
Florida State surprises Ole Miss with 21 fourth-quarter points.
Here are the standings and the College Football Playoff outlook after week one: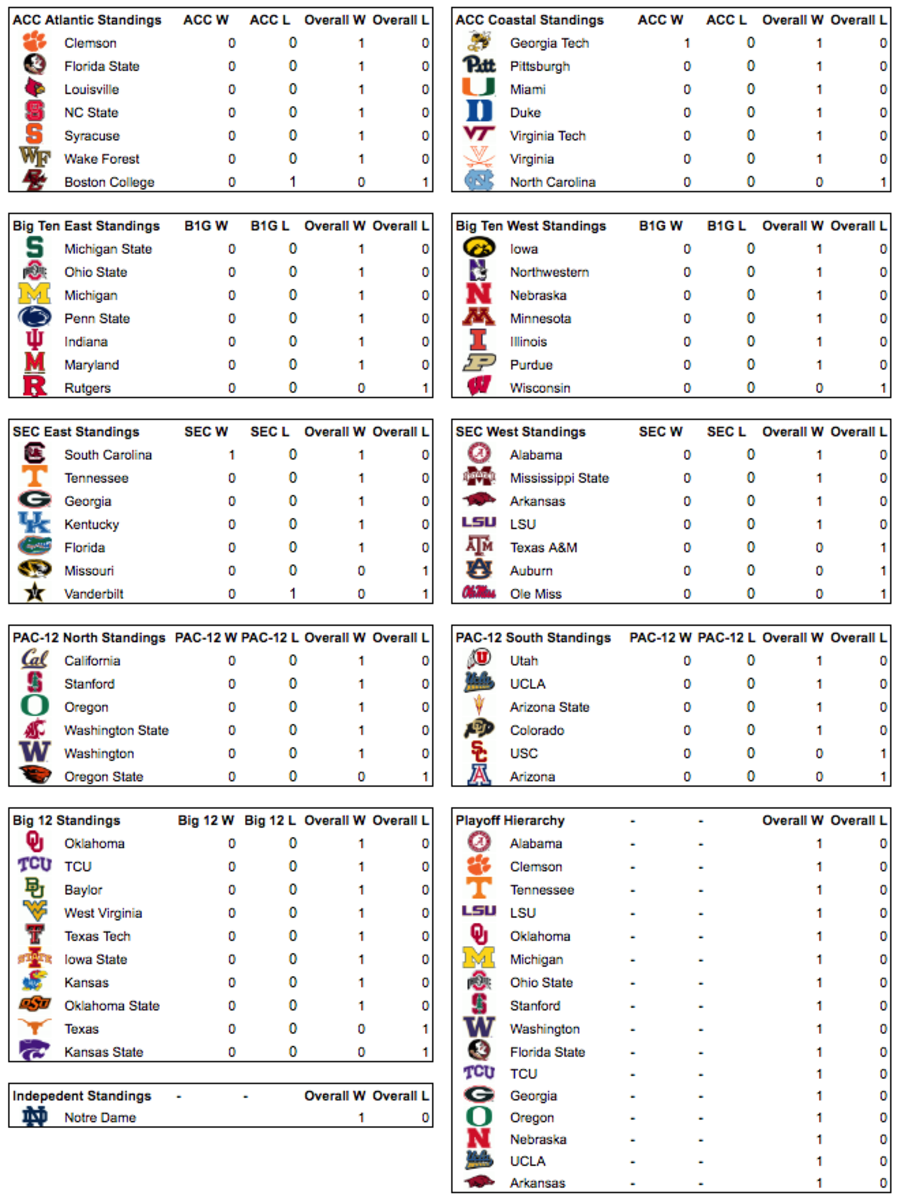 Here are the scores for every Power 5 game:
California 33, Hawaii 7
Utah 43, Southern Utah 10
Minnesota 20, Oregon State 13
Wake Forest 20, Tulane 10
Louisville 45, Charlotte 23
Indiana 42, Florida International 17
NC State 55, William & Mary 10
Tennessee 65, Appalachian State 7
South Carolina 31, Vanderbilt 20
Colorado 31, Colorado State 30
Stanford 17, Kansas State 7
Syracuse 24, Colgate 20
Michigan State 31, Furman 0
Ohio State 31, Bowling Green 17
Penn State 45, Kent State 20
Iowa 20, Miami (OH) 17
Northwestern 24, Western Michigan 3
Purdue 10, Eastern Kentucky 9
Kansas 27, Rhode Island 20
TCU 45, South Dakota State 10
Texas Tech 45, Stephen F Austin 20
BYU 27, Arizona 20
Baylor 35, Northwestern State 10
Iowa State 35, Northern Iowa 31
Arkansas 45, Louisiana Tech 23
UCLA 31, Texas A&M 23
Mississippi State 40, South Alabama 20
West Virginia 45, Missouri 20
Kentucky 34, Southern Miss 31
Arizona State 51, Northern Arizona 13
Oregon 50, UC Davis 7
Washington 54, Rutgers 23
Washington State 34, Eastern Washington 20
Nebraska 40, Fresno State 13
Illinois 19, Murray State 11
Maryland 24, Howard 7
Georgia Tech 23, Boston College 7
Oklahoma 24, Houston 20
Michigan 70, Hawaii 7
Virginia Tech 34, Liberty 10
Pittsburgh 17, Villanova 9
Virginia 17, Richmond 7
LSU 30, Wisconsin 20
Georgia 27, North Carolina 13
Duke 30, NC Central 3
Miami 30, Florida A&M 7
Alabama 31, USC 7
Clemson 35, Auburn 31
Notre Dame 35, Texas 10
Florida State 24, Ole Miss 21
Oklahoma State 48, SE Louisiana 0
Florida 34, UMass 6