Week six doesn't feature a ton of important games, but there are a few. BYU and Michigan State do battle, while Oklahoma and Texas renew their annual rivalry game. By the end of the day on Saturday, there will only be 11 undefeated teams in college football. And we aren't even halfway through the regular season.
Week 6 Highlights:
BYU surprises Michigan State, knocking the Spartans from national title contention.
Alabama handles Arkansas with ease, leading many to question whether Bret Bielema is ever going to get the Razorbacks over the top.
Tennessee rolls against Texas A&M
Oregon hands Washington its first Pac-12 loss.
Oklahoma blasts Texas, cementing itself as a real Playoff contender.
Here are the standings and the College Football Playoff hierarchy after Week 6.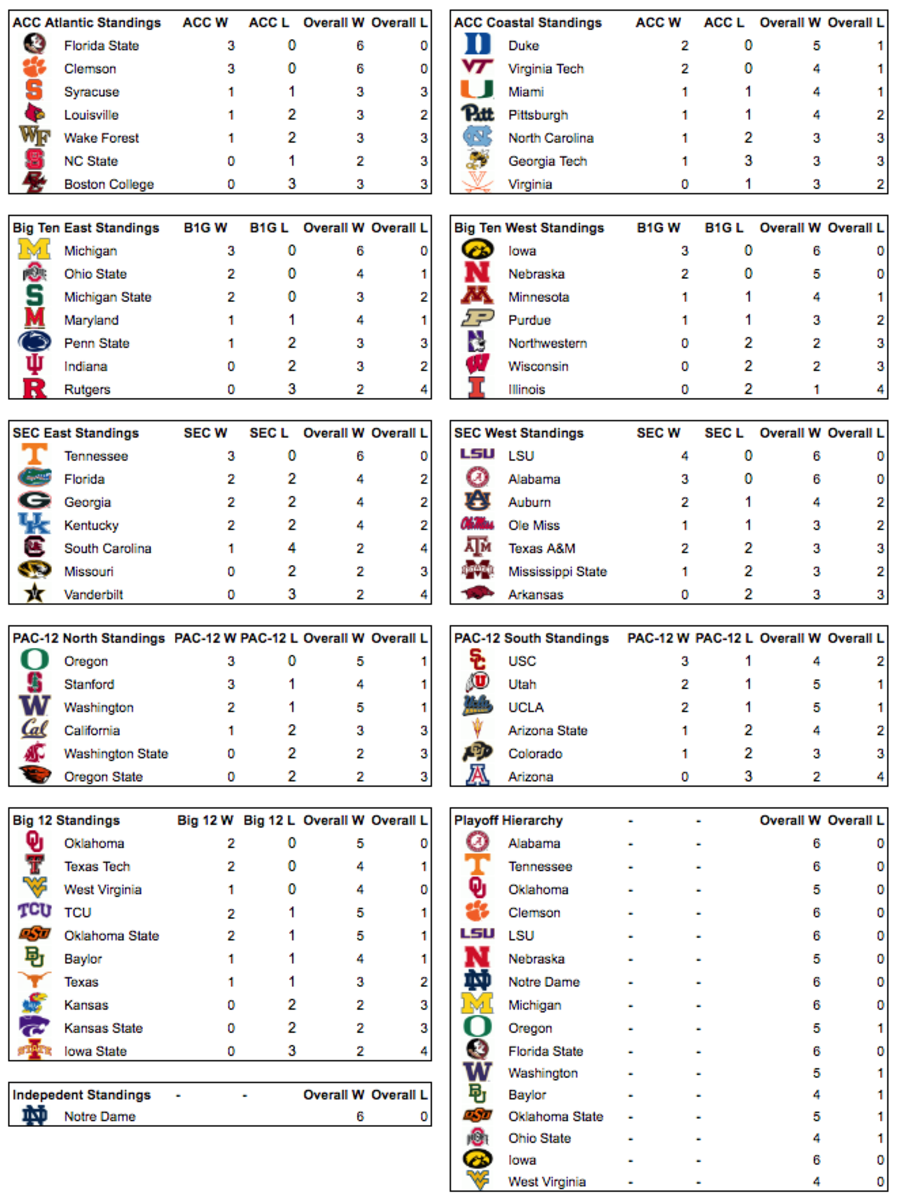 Here are the scores for every Power 5 game:
Clemson 60, Boston College 7
Duke 24, Army 14
BYU 41, Michigan State 17
Notre Dame 40, NC State 11
Alabama 52, Arkansas 18
LSU 41, Florida 18
Kentucky 44, Vanderbilt 7
Auburn 35, Mississippi State 31
Tennessee 17, Texas A&M 14
Georgia 30, South Carolina 22
Utah 35, Arizona 32
UCLA 31, Arizona State 21
USC 45, Colorado 42
Oregon 55, Washington 21
California 13, Oregon State 3
Stanford 13, Washington State 9
Pittsburgh 38, Georgia Tech 14
Virginia Tech 55, North Carolina 20
Syracuse 41, Wake Forest 7
Oklahoma State 24, Iowa State 14
TCU 24, Kansas 14
Texas Tech 27, Kansas State 42
Oklahoma 42, Texas 18
Michigan 30, Rutgers 13
Ohio State 51, Indiana 19
Purdue 34, Illinois 14
Iowa 31, Minnesota 24
Florida State 31, Miami 21
Penn State 20, Maryland 14