In week seven, BYU again takes down a major program, Stanford and Notre Dame meet in a matchup with great implications, and Ohio State attempts to stay in the discussion with a contest against Wisconsin. Alabama gets the best of Tennessee, yet again. Minnesota is also having a nice season – quietly. Will it last?
Week 7 Highlights:
BYU crushes Mississippi State, and is now starting to gain steam for consideration for a New Year's Six bowl.
Alabama runs all over Tennessee, leading Butch Jones' detractors to come out in full force.
Oklahoma rolls against Kansas State, putting on quite an offensive display.
Notre Dame can't find the answer for Christian McCaffrey, and Stanford has no trouble against the Irish.
Here are the standings and the College Football Playoff hierarchy after Week 7.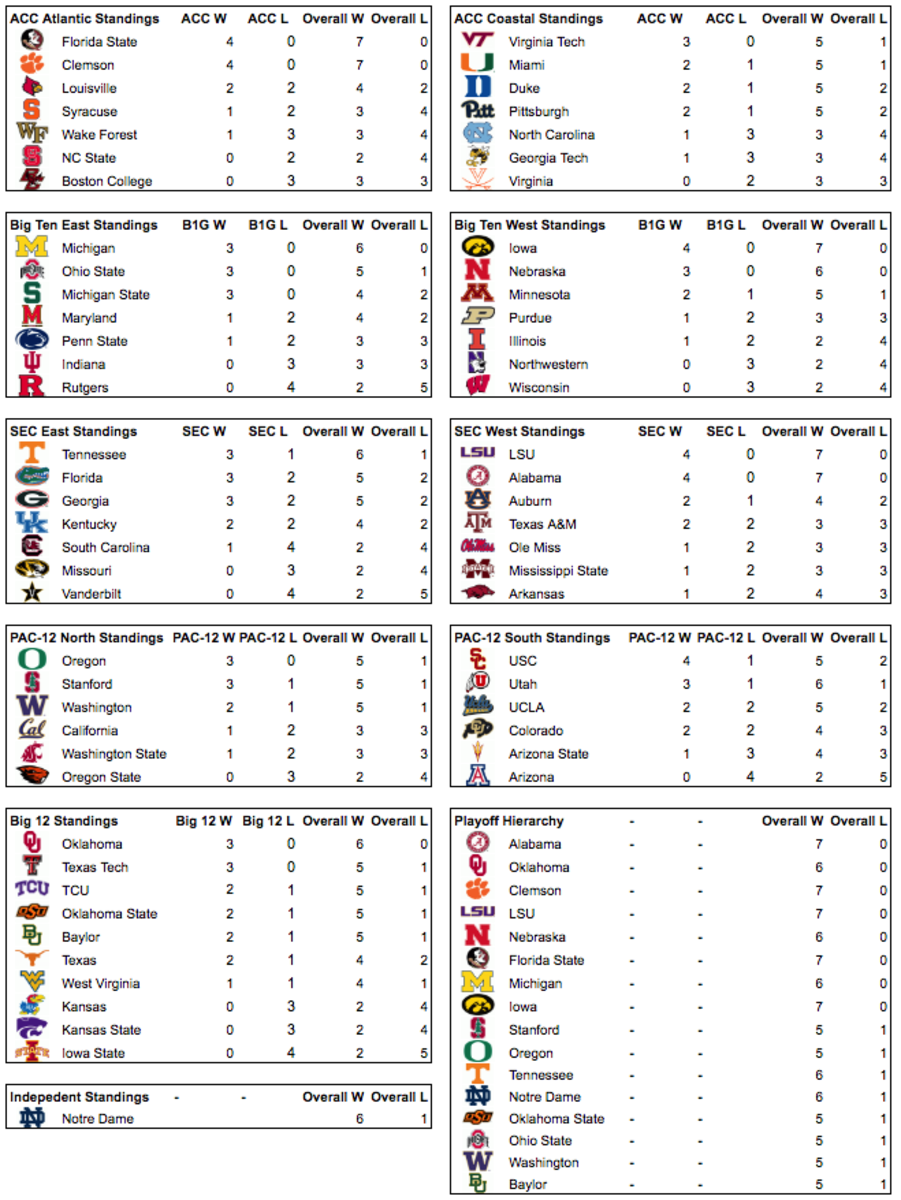 Here are the scores for every Power 5 game:
BYU 44, Mississippi State 14
Louisville 46, Duke 21
Arkansas 38, Ole Miss 3
Florida 45, Missouri 3
Georgia 21, Vanderbilt 20
LSU 34, Southern Miss 14
Alabama 52, Tennessee 19
USC 31, Arizona 21
Colorado 50, Arizona State 48
Washington State 53, UCLA 21
Utah 14, Oregon State 7
Clemson 21, NC State 7
Florida State 34, Wake Forest 14
Georgia Southern 34, Georgia Tech 31
Pittsburgh 24, Virginia 21
Virginia Tech 41, Syracuse 11
Baylor 55, Kansas 8
Texas 30, Iowa State 18
Oklahoma 34, Kansas State 18
Texas Tech 37, West Virginia 18
Minnesota 56, Maryland 25
Michigan State 53, Northwestern 13
Iowa 17, Purdue 11
Miami 24, North Carolina 14
Illinois 38, Rutgers 14
Nebraska 27, Indiana 21
Stanford 55, Notre Dame 24
Ohio State 44, Wisconsin 21