With the top three teams in the country all being participants in last year's College Football Playoff, something has to give soon – right? Not this week. Alabama and Oklahoma will stay undefeated. The Big Ten will get complicated, as both Nebraska and Michigan have yet to lose and appear headed for a big matchup. Ohio State is still hanging around, too.
Week 8 Highlights:
Miami crushes Virginia Tech, and Mark Richt is already being looked at as a savior.
Arkansas bounces back against Auburn – sending the Tigers into a tailspin.
Ohio State has no trouble with Penn State.
Ole Miss knocks LSU from the ranks of the unbeaten – emphatically.
Here are the standings and the College Football Playoff hierarchy after Week 8.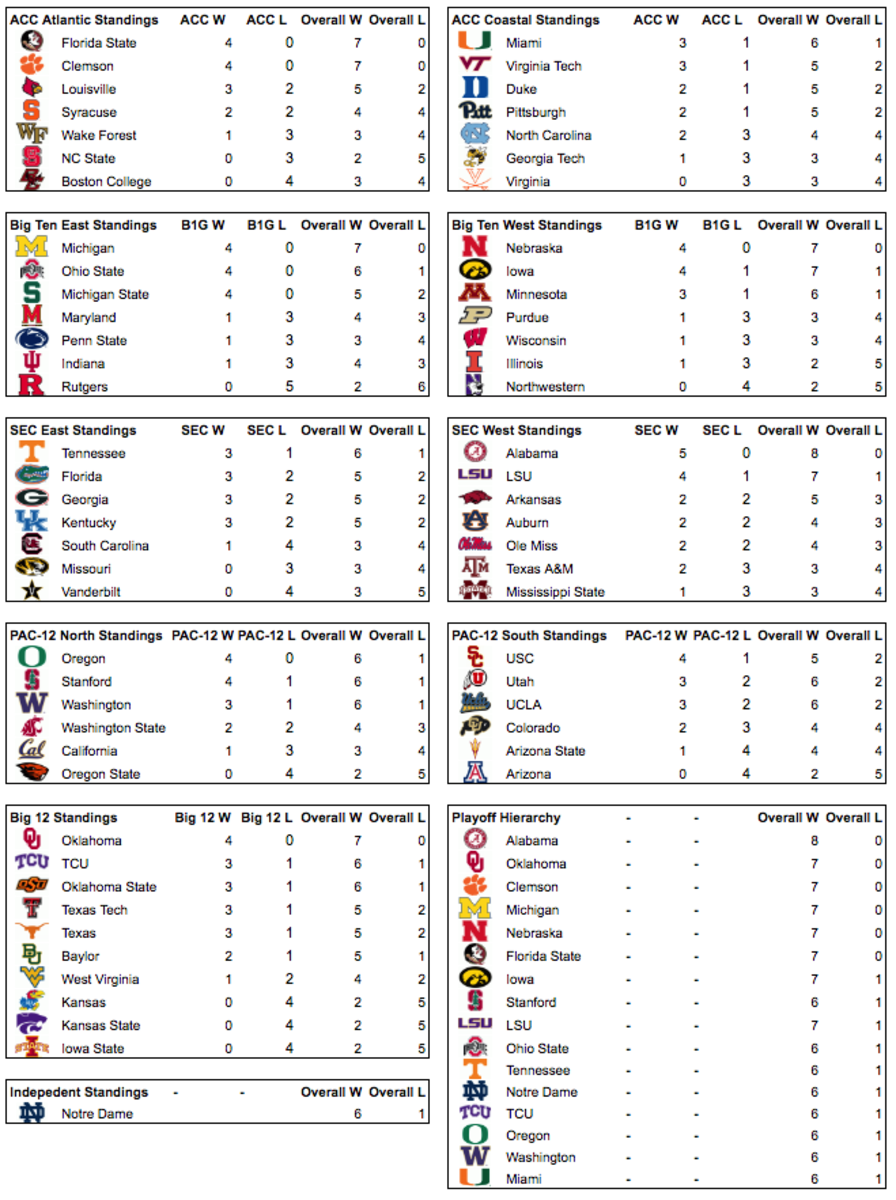 Here are the scores for every Power 5 game:
Miami 38, Virginia Tech 14
Oregon 61, California 24
Washington State 45, Arizona State 21
UCLA 31, Utah 25
Stanford 25, Colorado 14
Washington 48, Oregon State 7
South Carolina 21, UMass 14
Alabama 45, Texas A&M 14
Arkansas 44, Auburn 21
Kentucky 23, Mississippi State 15
Ole Miss 45, LSU 22
Missouri 51, Middle Tennessee 7
Vanderbilt 40, Tennessee State 10
Oklahoma State 55, Kansas 0
Texas 38, Kansas State 17
Oklahoma 51, Texas Tech 21
TCU 34, West Virginia 14
Minnesota 43, Rutgers 8
Syracuse 41, Boston College 18
Louisville 55, NC State 0
North Carolina 52, Virginia 18
Wisconsin 45, Iowa 14
Michigan State 27, Maryland 22
Nebraska 30, Purdue 8
Indiana 41, Northwestern 18
Michigan 51, Illinois 13
Ohio State 55, Penn State 32