Freshman WR Trevon Grimes took to Twitter to address the transfer rumors.
Rumors have been flying around on college football message boards that Ohio State wide receiver Trevon Grimes might be interested in transferring to Miami on a hardship waiver. It's a seemingly random theory—one of many that pop up during the season—but according to Eleven Warriors, Grimes did recently follow Miami's offensive staff on Twitter.
And it's not like Grimes and Miami don't have history; the Hurricanes were in Grimes' final six schools and he is a Florida native after all.
But those aren't the only factors. According to Land of 10, Grimes has been dealing with a family member who isn't doing well health-wise.
Per Land of 10:
The last month or so has been a trying time for Grimes, according to sources close to the situation. The wide receiver has started to get back on the field (slowly) after a torn ACL. He's also dealt with a major hurricane hitting the area close to his home, family issues, and general freshman malaise of homesickness and the challenges faced by any player who is 1,000 miles from home.

[…]

However, from what I've been able to glean from this situation is that at the time the Ohio State contingent left Florida on Monday, there was a plan in place for Grimes to stay in Florida and be with his family at least through the end of this semester. At that point, he is expected to return to Ohio State. If that changed, or is up for debate, I do not know any details. It could change daily, but that's where things were.
So with all those things combined, you could see how Grimes might be considering a university closer to home.
At any rate, he seemingly addressed those rumors earlier today with an Instagram post of him in an Ohio State uniform along with a rather cryptic caption: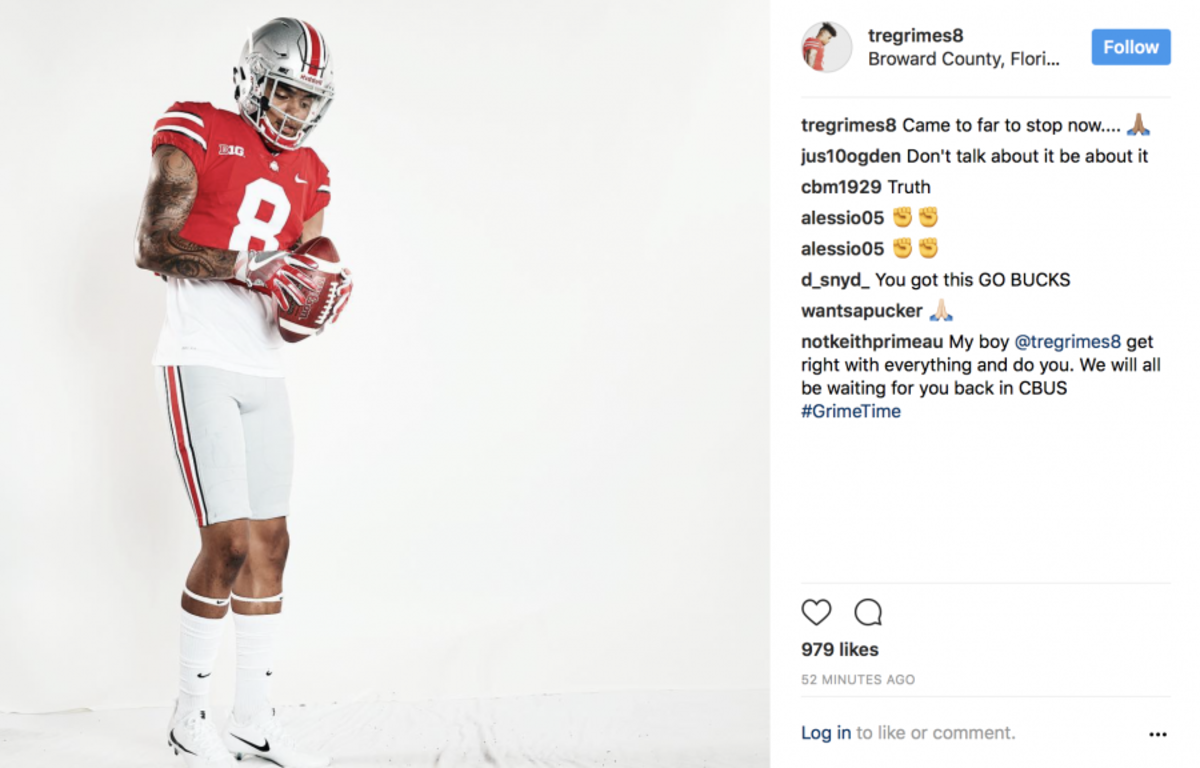 Make of it what you will, but he appears to still be committed to playing at Ohio State.
Grimes has yet to see the field during this season after tearing his ACL last fall. He was a 4-star recruit coming out of high school.