FBS-level college football returned last weekend, with a slate of games featuring some Group of Five programs, including Army, BYU, and Memphis. This week, the Power Five returns to action, with games featuring ACC and Big 12 teams.
Miami opens its season with its single non-conference game, against UAB on Thursday night. That will be the first game involving a Power Five team this season. From there, we have a bunch of other non-conference and conference games.
On Saturday, we have ACC games between No. 18 North Carolina and Syracuse, Florida State and Georgia Tech, Wake Forest and No. 1 Clemson, and one-year ACC member No. 10 Notre Dame and Duke.
Big 12 teams, meanwhile, are all playing non-conference foes. No. 23 Iowa State hosts Louisiana, No. 5 Oklahoma has FCS goes Missouri State, and No. 14 Texas hosts UTEP.
Pack mentality. #GoIrish x #Rally pic.twitter.com/5ZrGSn56O3

— Notre Dame Football (@NDFootball) August 24, 2020
Some of the most interesting games that were set for this week have been postponed. No. 21 UCF was set to host FIU, new Baylor head coach Dave Aranda was scheduled to coach his first game against Louisiana Tech, and TCU was set to host in-state foe SMU. Those games are currently postponed.
Last season, here's how things finished in our year-long college football picks contest:
1. Dan Lyons: 399-116
2. Andrew McCarty: 397-118
3. Matt Hladik: 392-123
4. Alek Arend: 390-125
5. Andrew Holleran: 389-126
6. Tzvi Machlin: 388-127
T-7. Steve Driscoll: 386-129
T-7. Chris Rosvoglou: 386-129
9. Matt Lombardi: 379-136
This season will have fewer games, and there will be less opportunity to roll up wins with non-conference buy games. For this week, however, things are going to be pretty chalky.
Here are our picks for this year's "College Football Week 2."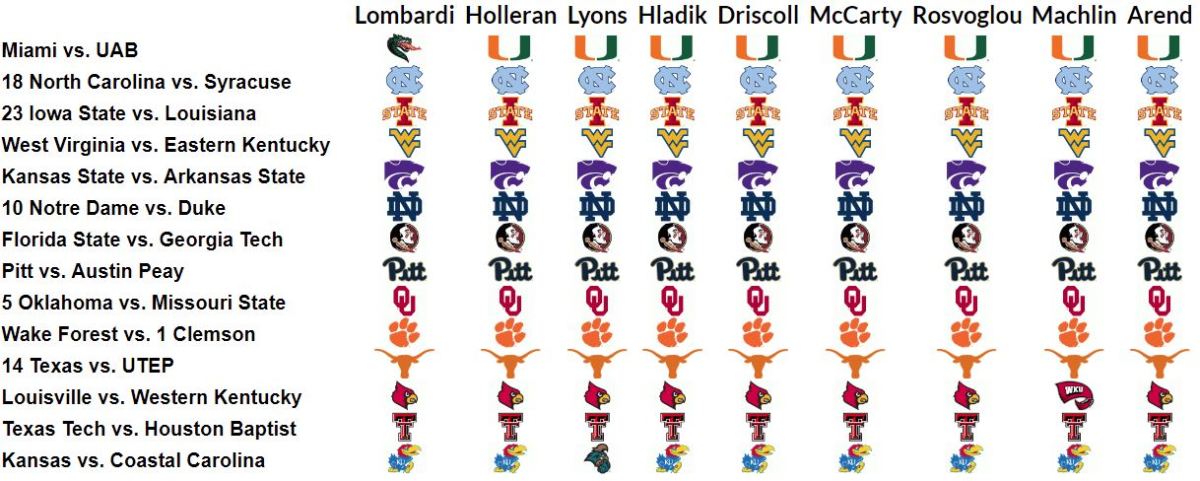 Every week, we pick every game involving Power Five and/or ranked teams. Check back every week as we update our standings.