Patriots reserve quarterback Jimmy Garoppolo hinted at a trade on his Instagram earlier today, but reports suggest he was hacked.
Early Friday morning, a post appeared on Jimmy Garoppolo's Instagram suggesting that the reserve quarterback was being traded. The post expressed how grateful he was for his time in New England and said "Peace out Boston."
The post has since been deleted, but here's what it looked like on his account: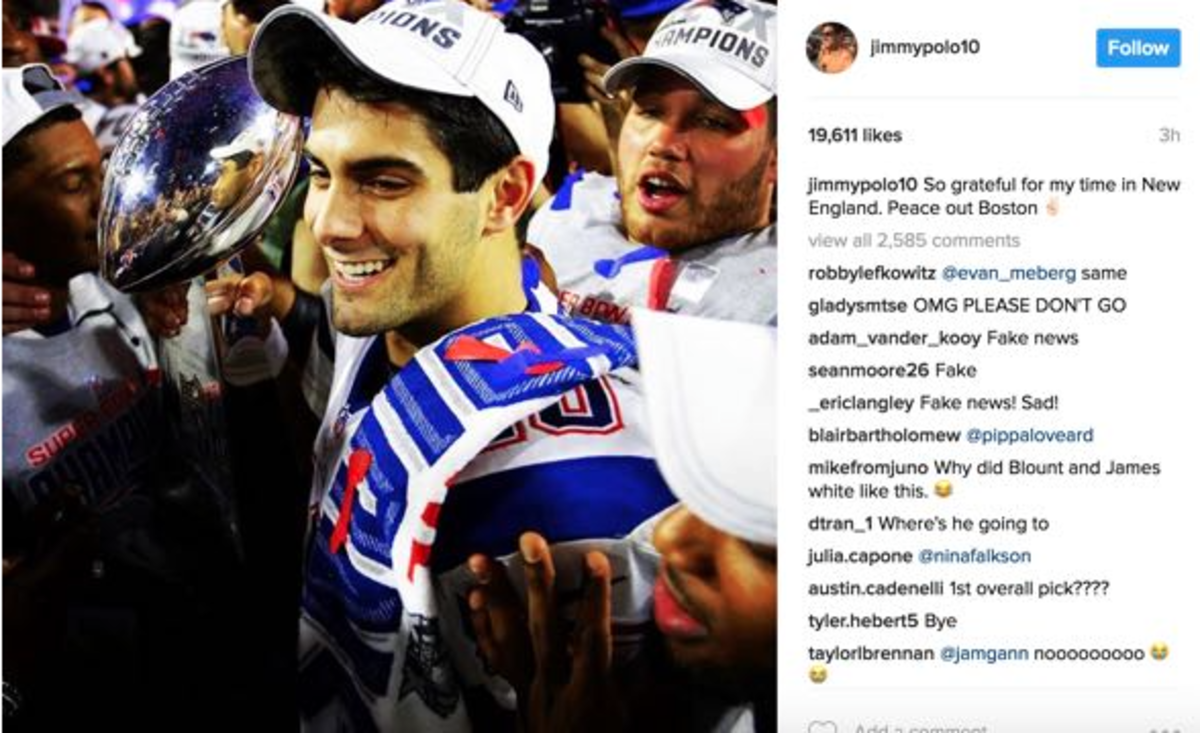 According to NFL Network's Ian Rapoport, the reserve quarterback had no knowledge of any kind of trade:
Spoke to someone close to Jimmy Garoppolo who had no knowledge of any trade and believes it's a hack. Alas, it's 5:26 am now & we're all up

— Ian Rapoport (@RapSheet) March 10, 2017
The post remained up until about 7:00 a.m., more than an hour after its posting.
Reports suggest that the Cleveland Browns are going after Garoppolo, but ESPN's Adam Schefter has repeatedly reported that the Patriots intend to hold on to Tom Brady's back-up. He seemed agitated by the whole thing on Mike & Mike this morning. From Business Insider:
"I am aggravated because we said last we week he is not getting traded," said Schefter. "He is not getting traded last week. He is not getting traded this week. He is not getting traded next week. He is not getting traded … It's not happening. I mean honestly, next topic."

As for the post, Schefter referred to it as "a hoax, a hack, or whatever you want to call it."
If the Patriots are willing to deal him to Cleveland, it would potentially take the first overall pick in the draft to pry him away, and then some.
Garoppolo is in his third season in the NFL, and last season he threw for 502 yards and four touchdowns before getting injured. He maintained a 113.3 quarterback rating.