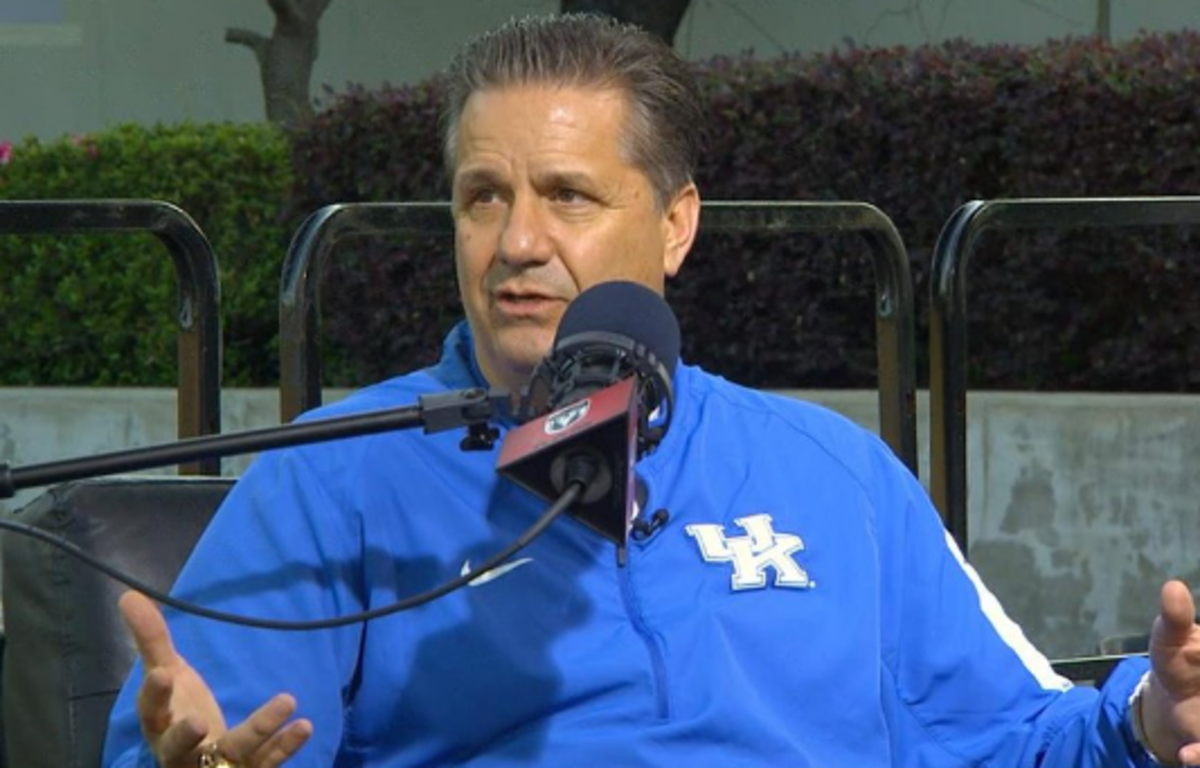 The 2018 NCAA Tournament Bracket is out and Coach Cal doesn't seem too happy about where Kentucky landed.
The Wildcats are a No. 5 seed in the South and will take on No. 12 Davidson on Friday in Boise, Idaho. After the bracket was released, John Calipari joined ESPN's Bracketology show and said he knew the bracket was out because his phone started blowing up. But the head coach didn't exactly receive congratulatory texts…
John Calipari to ESPN on Kentucky's draw: "I was in the car and my phone blew up. I didn't know there were so many different ways to say, 'You got screwed again.'"

— Jeff Eisenberg (@JeffEisenberg) March 11, 2018
If Coach Cal relayed that story, there's a probably good chance he shares the same sentiment. He continued to divulge his thoughts while speaking to reporters.
"Is ours like the toughest again?" Calipari asked. "Like, by far? Is anyone in here surprised? We're not playing on Thursday, right? Because we just got done playing today.
We're playing on Thursday? Oh, but we're close?" (reporter says they're in Boise). "Anchorage or Boise? It is what it is. They're not going to make it easy for us, and they can all say, 'This is all by the numbers and all that.' OK."
The young Wildcats will be tested in a region that boasts of Virginia and Arizona on the same side of their bracket.
I've doubted for years that the Selection Committee stacks the deck to create marquee matchups. But Kentucky vs. Arizona in the second round? Give me a f***ing break. Not fair to EITHER team

— Aaron Torres (@Aaron_Torres) March 11, 2018
Kentucky's path to the Final Four: Davidson, then Arizona, then Virginia, then the Warriors, then the 1987 Lakers, then the original Dream Team, then The Monstars.

— Not Jerry Tipton (@NotJerryTipton) March 11, 2018
Kentucky earned an automatic bid after topping Tennessee 77-72 to win the program's fourth straight SEC Tournament championship. The victory marked the Wildcats 31st conference title, and according to ESPN Stats and Info, that's four more than the rest of the schools in the conference combined.
Shai Gilgeous-Alexander had a monster performance in which he put up 29 points, allowing the freshman to be named the Tournament MVP.
Coach Cal has been adamant this season that his inexperienced squad just needed a little more time to gel, but the South draw could prove to be difficult for even the most cohesive teams.