ESPN's Laura Rutledge isn't an avid reader of satire.
For those unaware, The Onion is perhaps the most popular website for satire on the internet. The website doesn't focus on sports content – but from time to time, they take shots. All of this is news to ESPN reporter Laura Rutledge.
Saturday morning, The Onion published a satirical piece on sideline reporters. Rutledge was the subject.
On-Field Reporter Acting Like No Big Deal That Coach Just Walked Away Mid-Interview https://t.co/3hGytSfkbL pic.twitter.com/bVoply3yn7

— The Onion (@TheOnion) September 30, 2017
Well, Rutledge didn't realize it was a joke, and went after the publication on Twitter.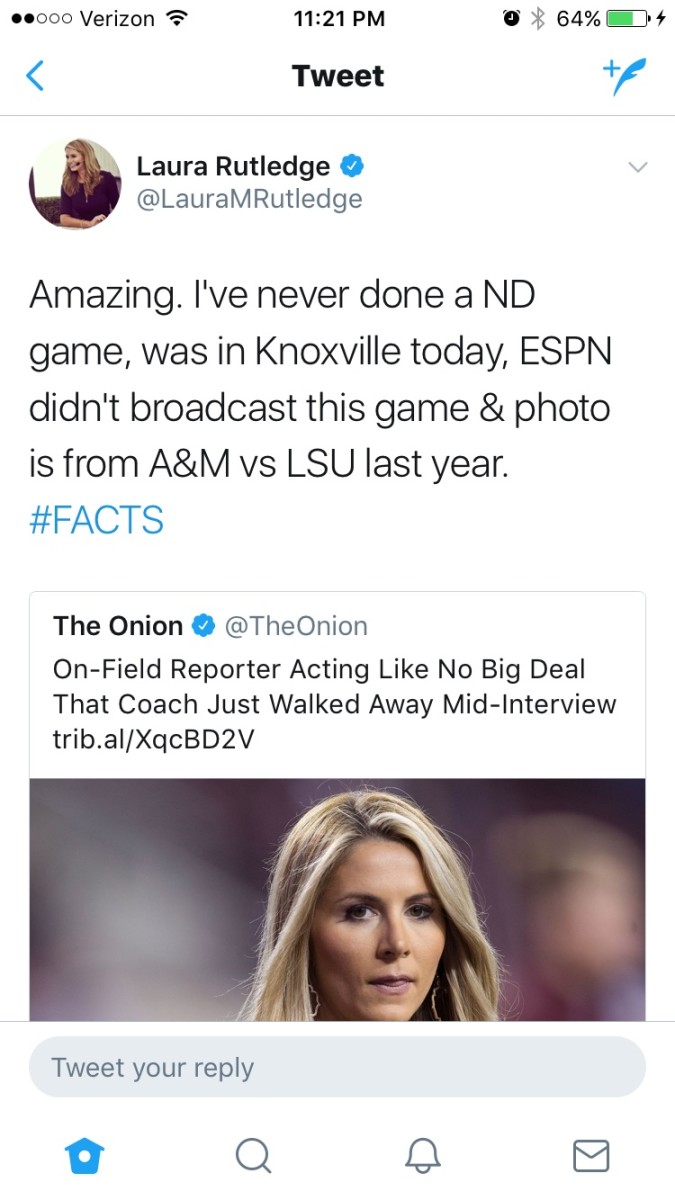 Luckily, her colleagues quickly informed her of the situation. She later deleted the tweet.
The Onion is a parody. Plus you'd never do such a thing.

— Cecil Hurt (@CecilHurt) October 1, 2017
Uh, Laura, look up The Onion.

— Brandon Kamerman (@B_Kamerman) October 1, 2017
The Onion is satire news babe…. chill

— Jarron Paul Davis (@jarronpaul) October 1, 2017
Welcome to 2017 – where fake news that's meant to be fake news isn't actually as big of a deal as fake news that is not intended to be fake.