Jermichael Finley probably wishes he had this one back.
The top story in the sports world this morning involves former New England Patriots tight end Aaron Hernandez, who was found dead in his jail cell early this morning after committing suicide. Hernandez was serving a life sentence for murder.
In the immediate aftermath of the news getting out, many people shared their views on social media. One of those people was former Green Bay Packers tight end Jermichael Finley.
Here is Finley's tweet, which was eventually deleted. It's weird, because it almost sounds like he didn't know Hernandez's story, which of course he had to.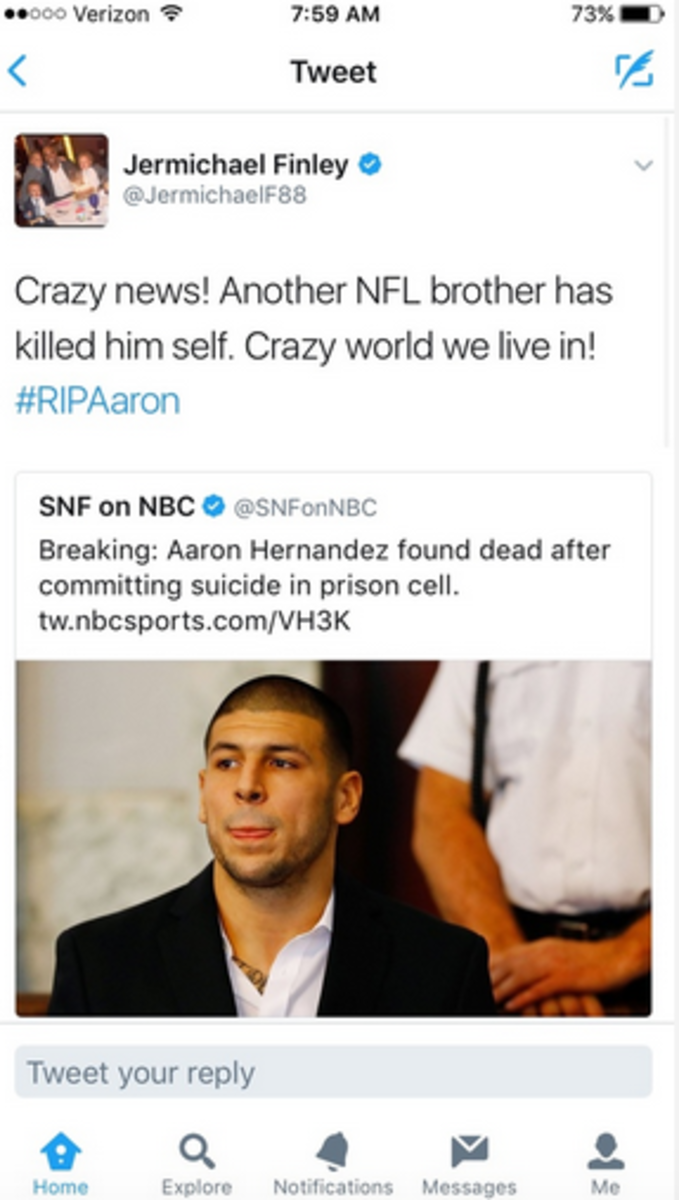 As you might expect, the reaction to Finley's tweet wasn't positive.
@SNFonNBC Nothing to be sad about

— Matt Peterson (@ma_pete13) April 19, 2017
Dude murdered. It's not like he did it because of head trauma from the game.

— SUNBIRD (@Sunbird5274) April 19, 2017
Dude, what? He's a monster, and no brother to anyone. If there's a hell, he's in it.

Feel sorry for his family, and victim's families.

— Mike (@Mikell_Pine) April 19, 2017
You consider that POS your brother? You're right, sure is a crazy world. 👀

— Michael Lightfoot (@mxr124) April 19, 2017
Too many head injuries for you

— Tim (@BostonSucks85) April 19, 2017
@JermichaelF88 He's a convicted murderer? Wtf?

— Dale Wilson (@golfnwilly) April 19, 2017
@JermichaelF88 you are a good dude. But, Delete this mornings tweet before everyone wakes up.

— Courtney Christenson (@ChristensonCC) April 19, 2017
Hahahahha point and laugh at @JermichaelF88 pic.twitter.com/gCbRkMeYyR

— WFAN Trades (@WFANTrades) April 19, 2017
Finley later tweeted "Count your blessings." He also tweeted this in response to a column about Hernandez's four-year-old daughter and the court appearance she made.
Ugh! Crazy man! 😥 https://t.co/p5H8j5tKRB

— Jermichael Finley (@JermichaelF88) April 19, 2017
On that we can agree. This is a brutal situation for Hernandez's young daughter.
It doesn't seem like Finley meant to offend anyone with his earlier post. This is just a reminder of the best rule to follow: don't tweet.
Ever. About anything.